We Believe In the Incredible
"Going deep and developing the will power is the only way to overcome your fear of cold therapy."
ABOUT US
Based out of Fremantle, Western Australia, Peakn Ice bath's are the brain child of Bryan Raeburn. He felt there was an opportunity in the market for a portable inflatable ice bath that was ergonomically designed for comfort whilst ice bathing if there is such a thing????
With a large movement across the globe that is growing everyday along with breathing techniques being taught by people such as Wim Hof they started the process of research and development.
After months and months of sampling products the final sizing
And material was finalised to what we see now as Peakn's
initial offering the PK001 ice bath available on both Amazon USA
and online at www.peaknicebath.com.au
"We at PEAKn International are wanting to allow everyone across the globe the opportunity to access the health benefits of ice bathing, thus creating our inflatable, portable and easy to use PEAKn ice bath." Bryan Raeburn – PEAKn International
COLD THERAPY
'Ever since my mother passed away I'm not afraid of death, I live in the moment and move towards what I manifest and draws me in where Cold therapy does this for me!.' 
Originally from Sydney Australia, Bryan during his earlier years was a successful sportsperson at high level where cold therapy was always part of the recovery process, however not as in depth as we see today as evolution has taken over.

Only a few years back when the WIM HOF explosion started to roll out, we started doing full body ice baths for fun to " see what this breathwork and ice bath fad is all about" as they say.
This was where the birth of PEAKn began as we wanted to have an easier way to do ice bathing and not have something too cumbersome to store as we may use once every so often.
It took us a lot of time to get the correct product for ease of use and comfortability.  We love what we have created as this allows people the accessibility to pay more attention to their body. We know this can help with multiple health benefits and with control  breathing your heart rate and blood circulation can start to withstand extreme environments.
There is more to come at PEAKn International in the coming months and years!
PEAKn ICE BATh - PK 001
The Original portable, inflatable, single use, 1 person ice bath from Peakn Ice baths
PEAKn ICE BAth - PK 005
The latest offering, the PK005 portable, inflatable, Multi use, 1 person ice bath from Peakn Ice Baths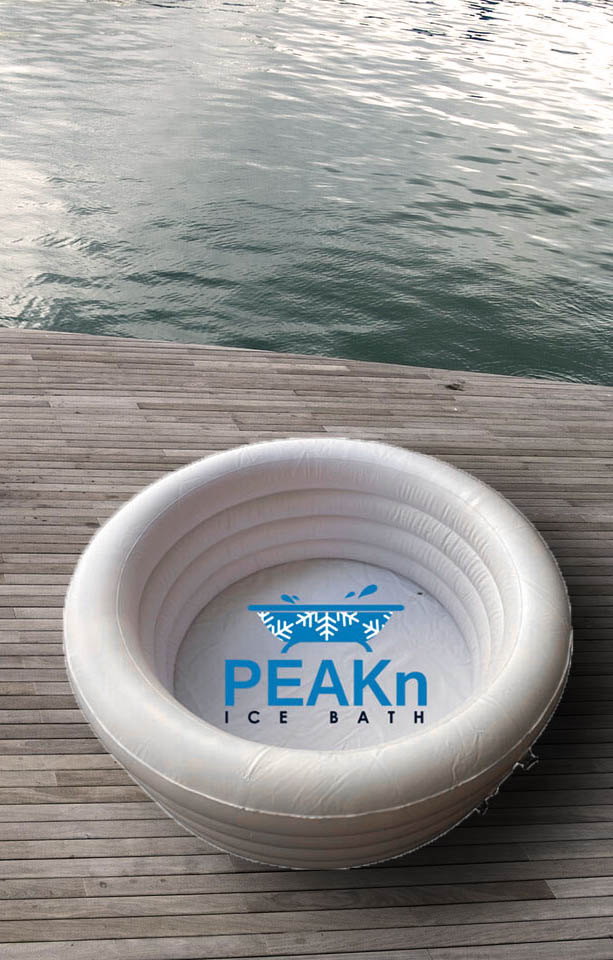 PEAKn ICE BAth - PK 003
The third installation of the Peakn brand. The 3 person, portable, inflatable, multi use ice bath, the PK003
Relieve stress
A combination of meditation, breathing exercises, and exposure to cold that can help you regulate your stress levels.
Burnout recovery
There are techniques that can help you get a grip on your daily struggles, that can help you reset your nervous system, and that can provide you with the energy needed to recover from burnout.
Improve cold tolerance
Cold body therapy continues to gain serious popularity, because it is linked to numerous health benefits including reducing inflammation & an improved immune response.
Deal with depression
Overcoming depression can be very difficult. However, there are natural ways that can help you cope with depression. For example, depressed people that start with ice bathing often report relief from various symptoms related to a clinical depression.
Increase willpower
If you really want to become a better version of yourself, increasing willpower is one of the most essential things to do.
Boost concentration
A lot of people experience a huge boost in concentration after performing ice bathing. Find out ice bathing and breathwork can do for you.
Improve your mind body connection
With a solid mind-body connection you are better able to manage your feelings and face difficulties. Unfortunately, many people are unable to control their mind-body connection. Learn more about how we can help you improve your mind-body connection.
Improve mental health
Your mental health can be determined as your overall psychological wellbeing. The importance of looking after your mental health can't be stressed enough, because it influences how you feel about yourself and others.
Improve creativity
The best thing about creativity is that it can be trained. An increasing number of people, including artists, writers, designers, and other professionals are using ice bath's and enjoying the benefits of improved creativity on a daily basis.
Increase your happiness
Happiness and positivity are essential to get the most out of life, for everybody. When we feel joyful, we are more likely to get out and engage with the world. Learn how you can increase your happiness with ice bath's.
Controlling the automatic nervous system
For a long time, we believed that the autonomic nervous system could not be voluntarily influenced. However, it is scientifically proven to be able to control the autonomic nervous system.
Boost your endorphins
Endorphins are naturally produced by the autonomic nervous system to get through pain and stress. Learn how to boost your endorphins and live happier and healthier.
Burnout prevention
Burnout can have several causes. For example work-related causes, lifestyle causes, or personality traits. But there are several things that you can do to prevent burnout. Learn how you can prevent a burnout with the exercises of the Wim Hof method.
Stress control
Ice baths can help bring down your stress level in tense or exhausting situations. Learn everything about how to control your stress.
Activities To Improve Mental Health
Are you looking for exercises to improve your mental health?


Mail
peakn@peaknicebath.com
Address
Fremantle. Perth. WA